Silver partner - TeleSign
SOLVING UNIQUE CUSTOMER CHALLENGES
TeleSign connects and protects online experiences with sophisticated customer identity and engagement solutions.
At an alarming rate, bad actors are creating online and mobile application accounts that result in spam, phishing attacks, promo abuse and other costly fraud. Through the registration of fake accounts, fraudsters are able to attack legitimate users and damage a brand's value, revenue and growth. Effectively identifying and blocking these harmful users at account registration, while streamlining the process for authentic and valuable users, has become critical.
So, what can TeleSign do to help?
TeleSign can help you to know your customer. Through utilizing phone data intelligence the onboarding process can be simplified for legitimate users while identifying and blocking risky users before they can do harm. With thorough evaluation of customer-provided data inputs, you can gain a deeper understanding of your customers from actionable global phone number and subscriber data intelligence.
But, that's not all. Data-supported two-factor authentication (2FA) prevents unauthorized access to the end-user account and prevents it from being compromised. APIs provide timely, personalized information through global SMS and voice cloud communications. As a result, user engagement is increased. By utilizing data intelligence and two-factor authentication TeleSign can verify transactions and distinguish good users from bad. Fake accounts can be reduced by verifying end-user identity and blocking spam at account registration using phone verification and data intelligence-based fraud risk scoring.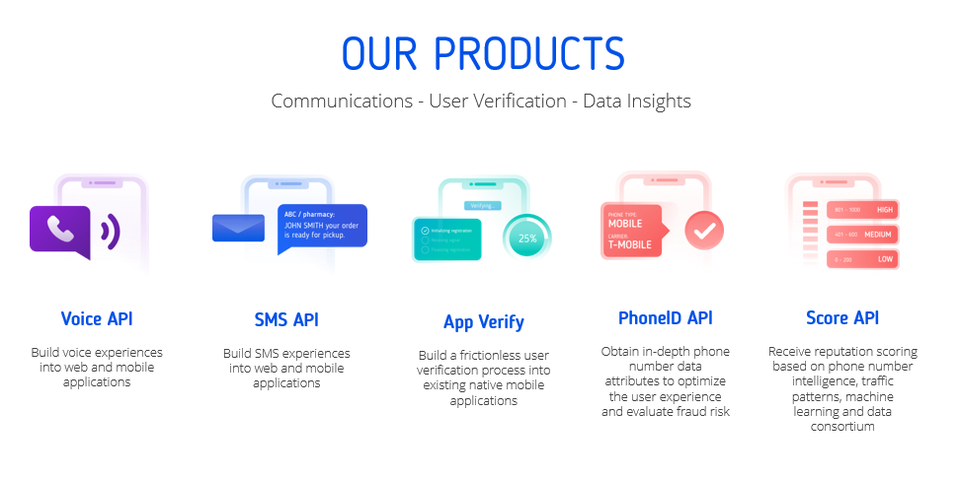 What makes TeleSign different?
As pioneers in the use of two-factor authentication to protect accounts, TeleSign has evolved to stay ahead of next generation fraud. TeleSign has privileged access to subscriber/phone number data that almost no one else has.
Together with BICS, TeleSign's GSMA and global carrier relationships enable TeleSign to bridge the digital and telco worlds for their customers.
TeleSign's best-in-class Technical Account Managers and Solutions Architects partner with clients to solve their unique problems with UI/UX and flow analysis, integration assistance, code reviews, and compliance, consent and data privacy guidance.